2022-1-19
24.5.55.0
[New] Now you can start Nero apps with right click menu easily.

[New] You can configure the settings for the mouse right-menu-button in Nero Start Options > General page.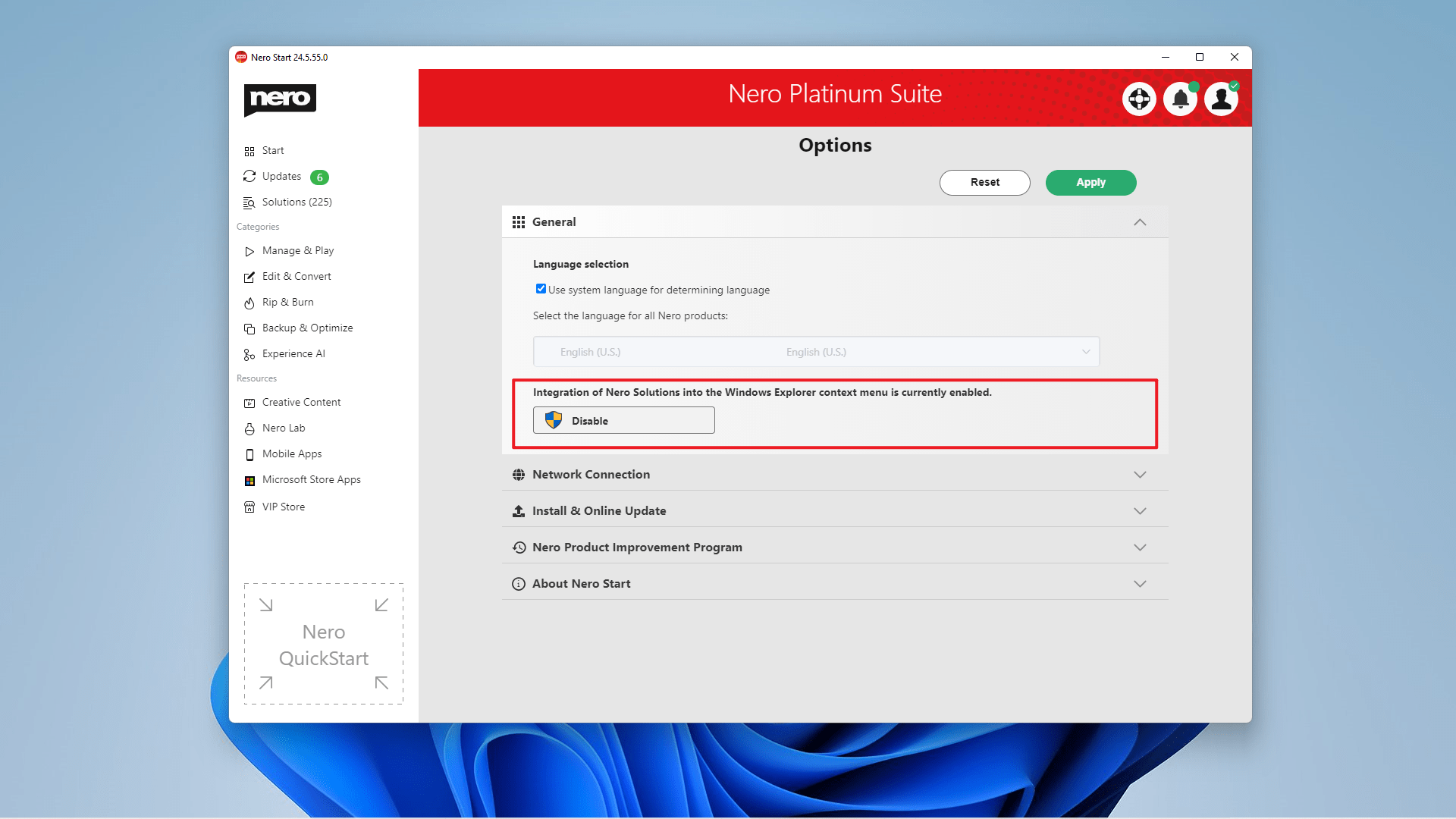 [New] Added 'Serial number' result in solution page.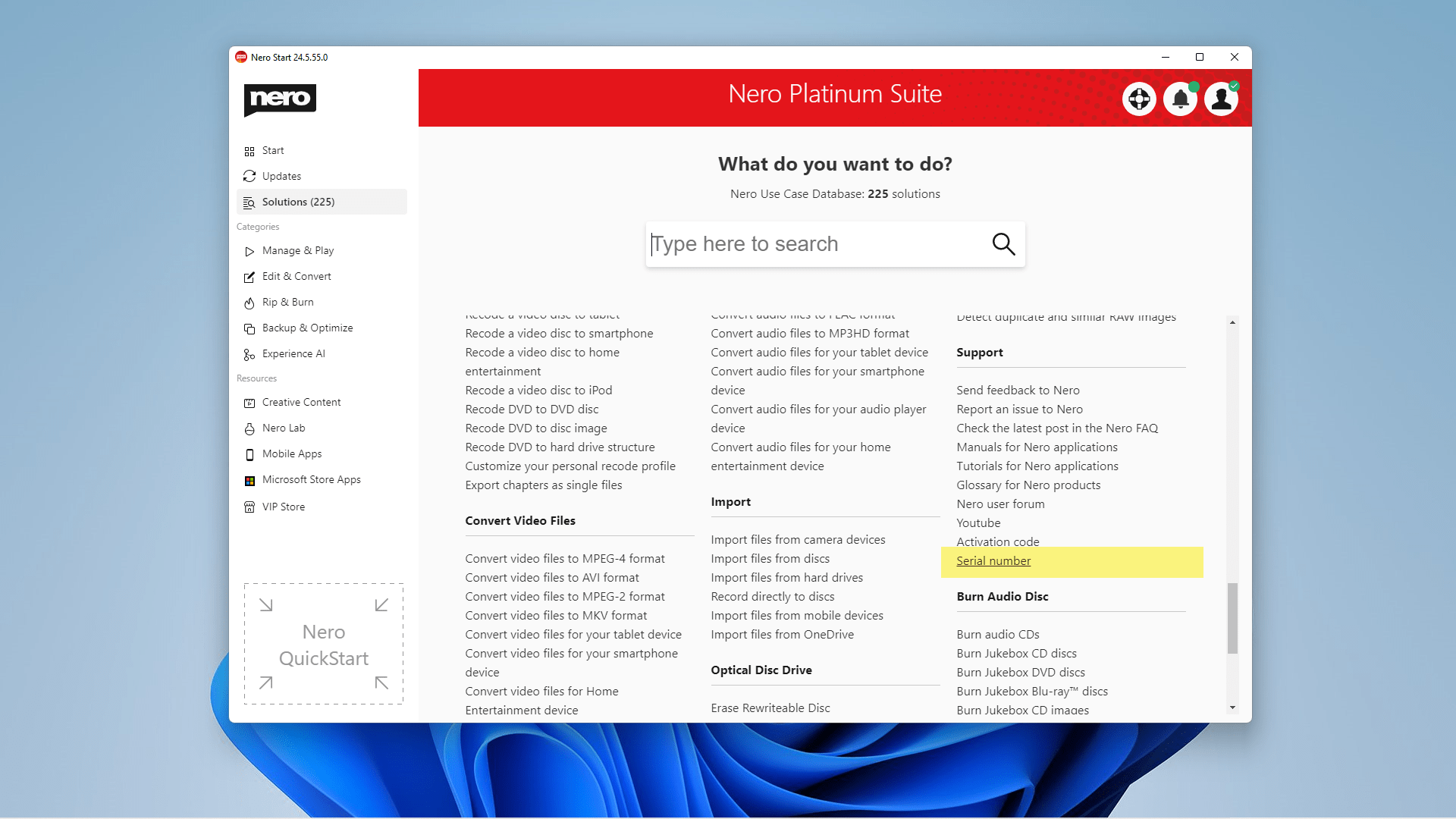 [New] Introduced Audials Music Recorder 2022. Now you can experience new version of Audials Music Recorder.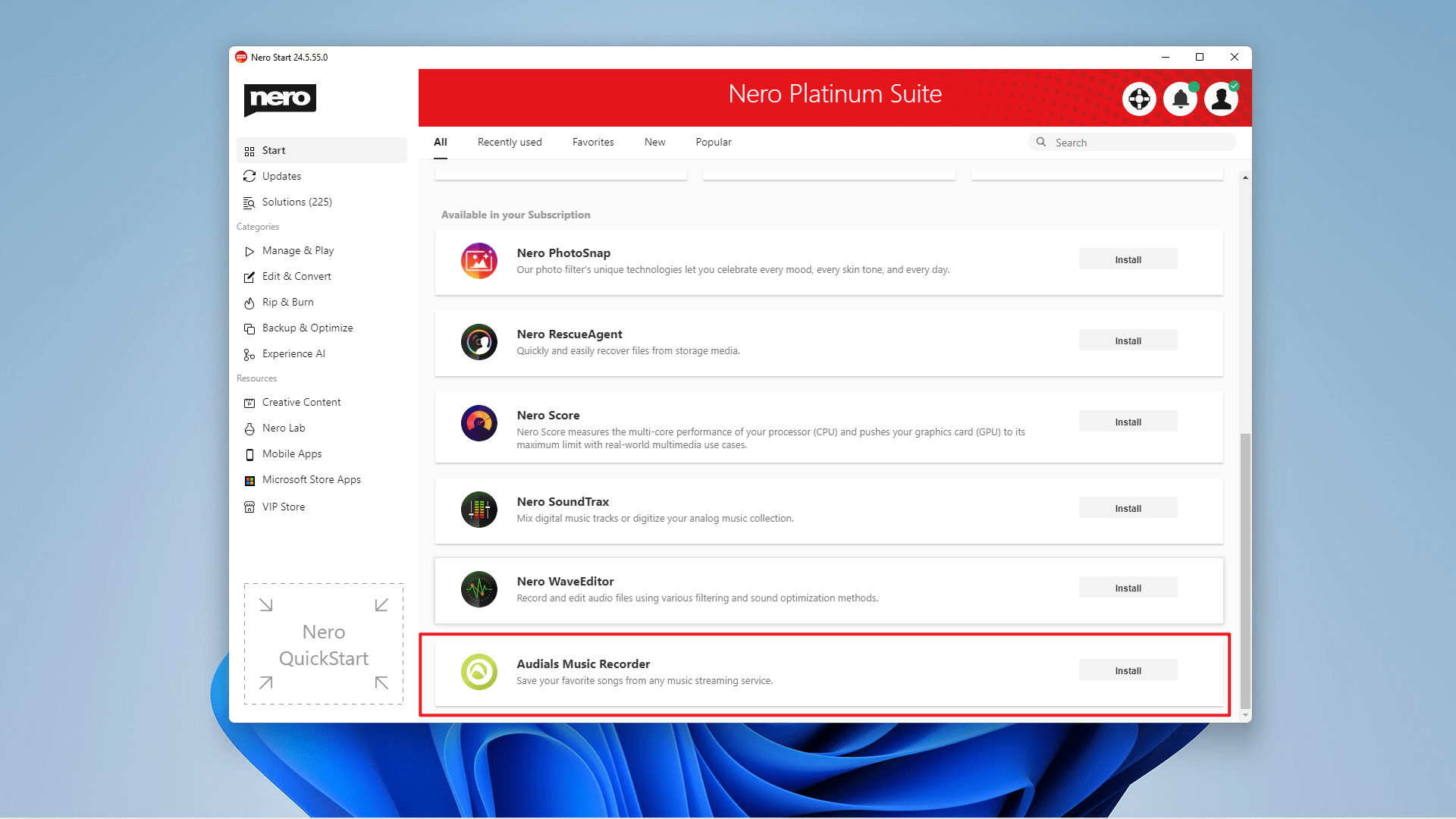 [New] Introduced Audials One 2022 in VIP Store. You can either upgrade to Audials One 2022 from Audials Music Recorder 2022 or from VIP Store in-app purchase direclty.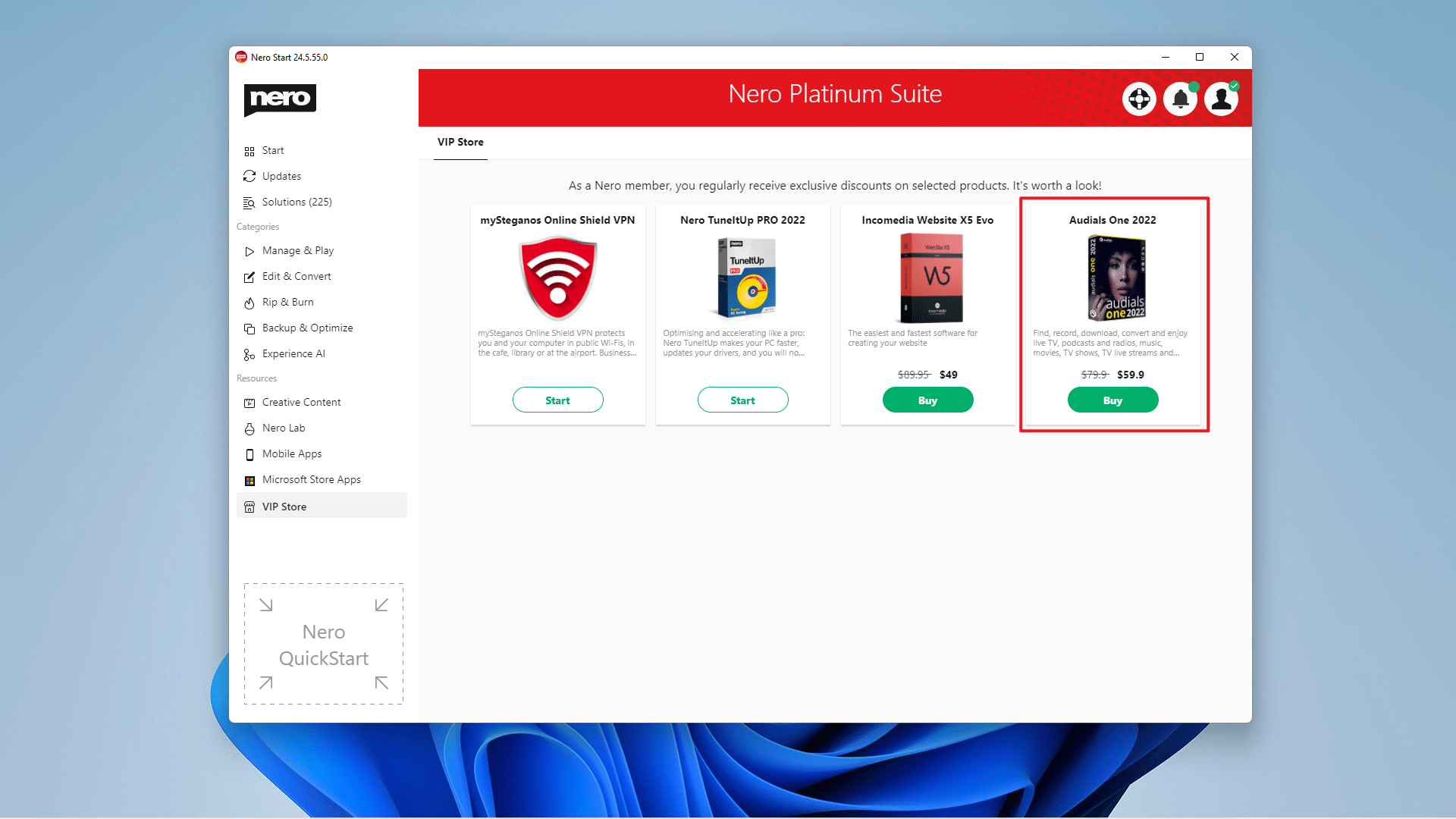 [New] Added CUDA AI hardware acceleration downloading and compiling for AI upscaling.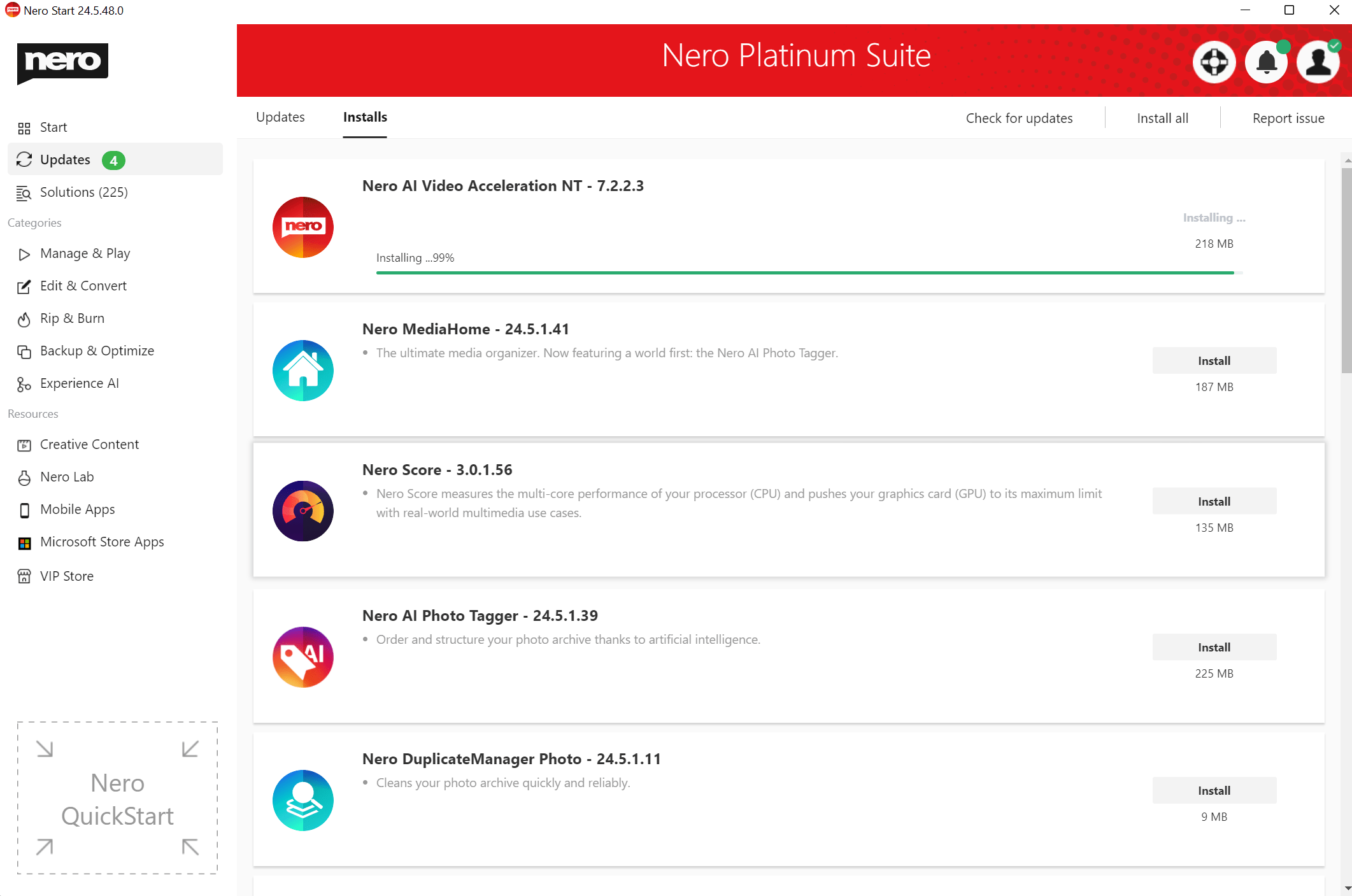 2021-12-9
24.5.42.0
[New] Now you can search for more use cases of free apps.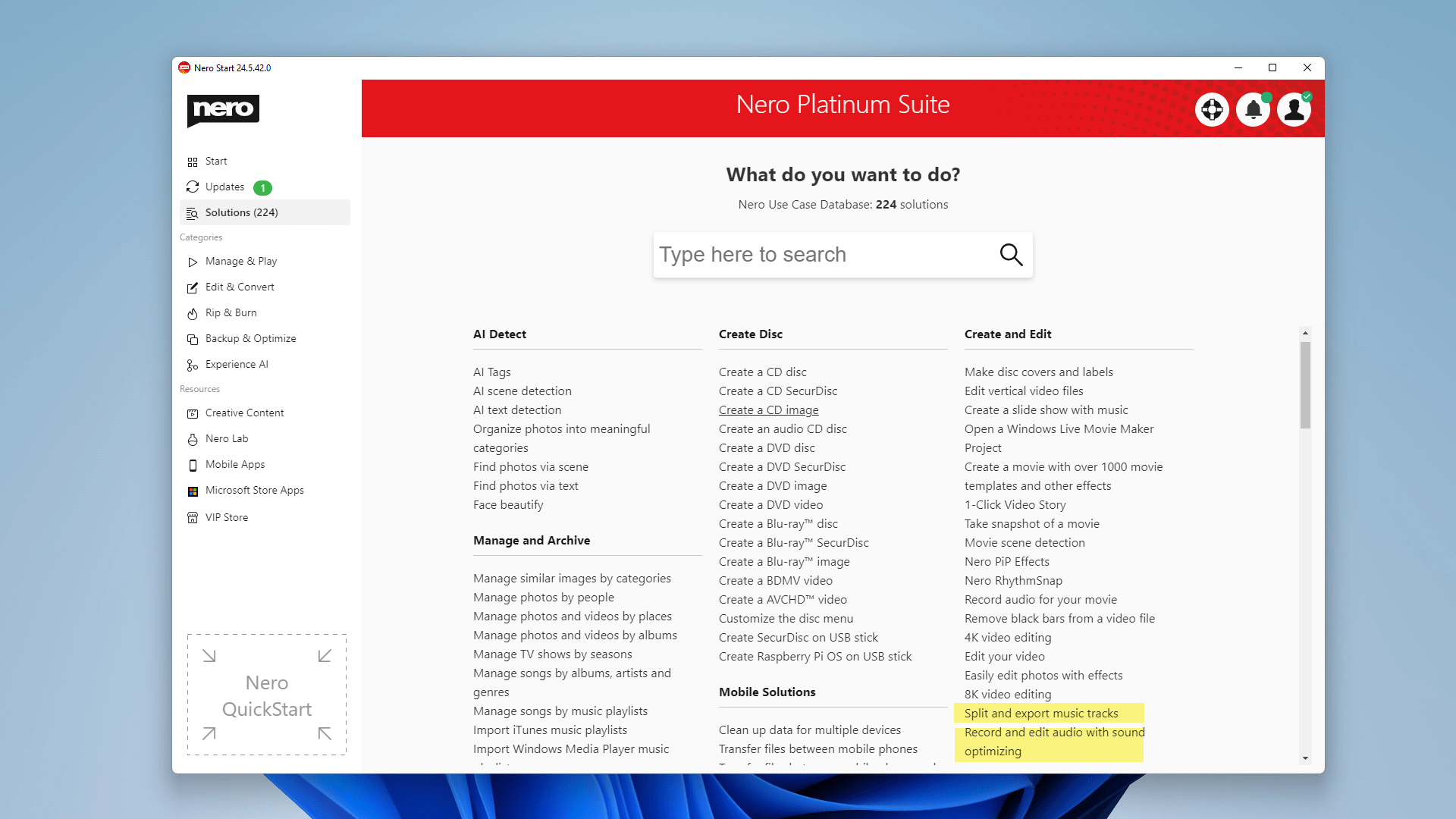 [New] Added FAQ for 'Activation Code' and now you can search for it.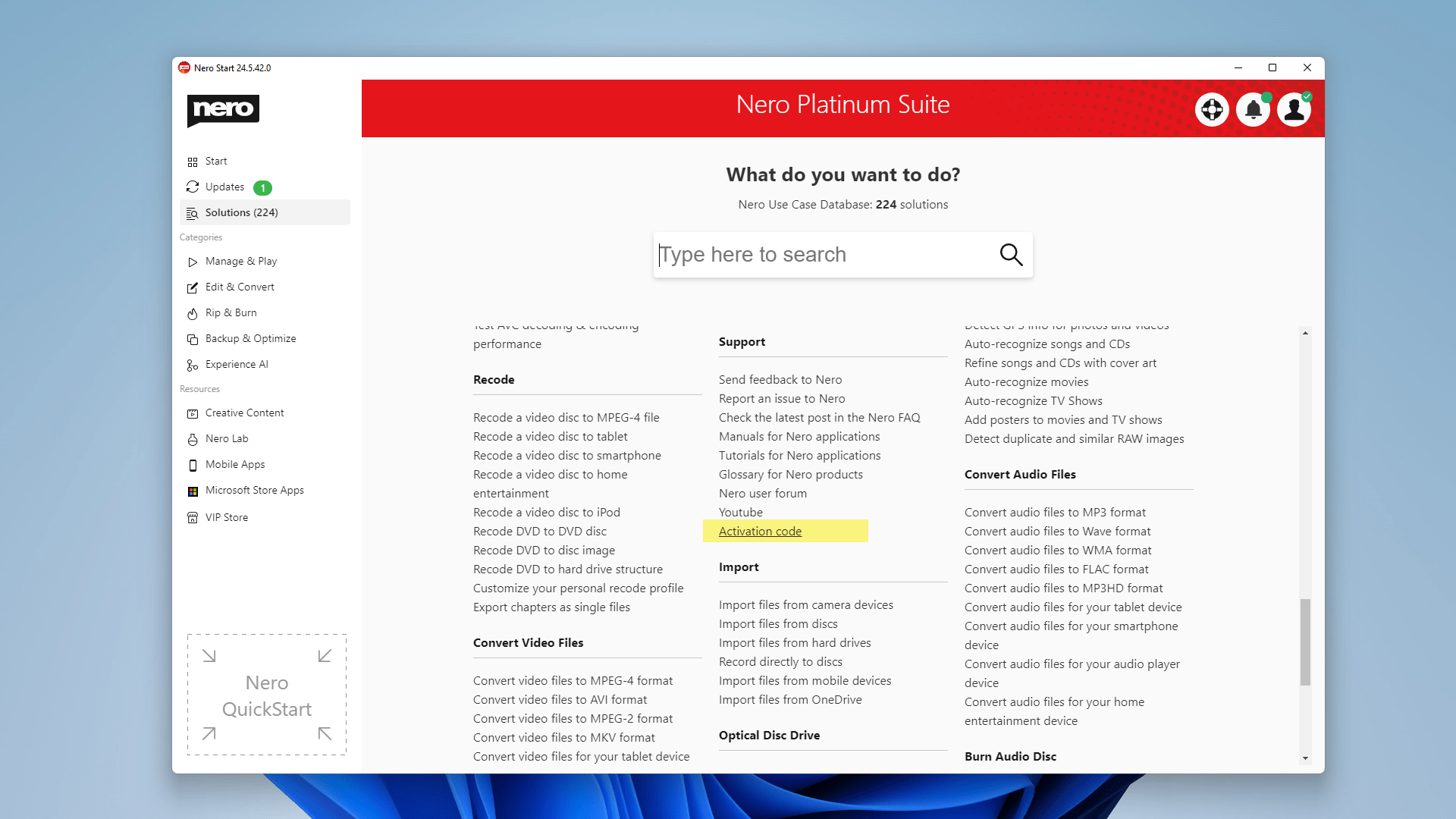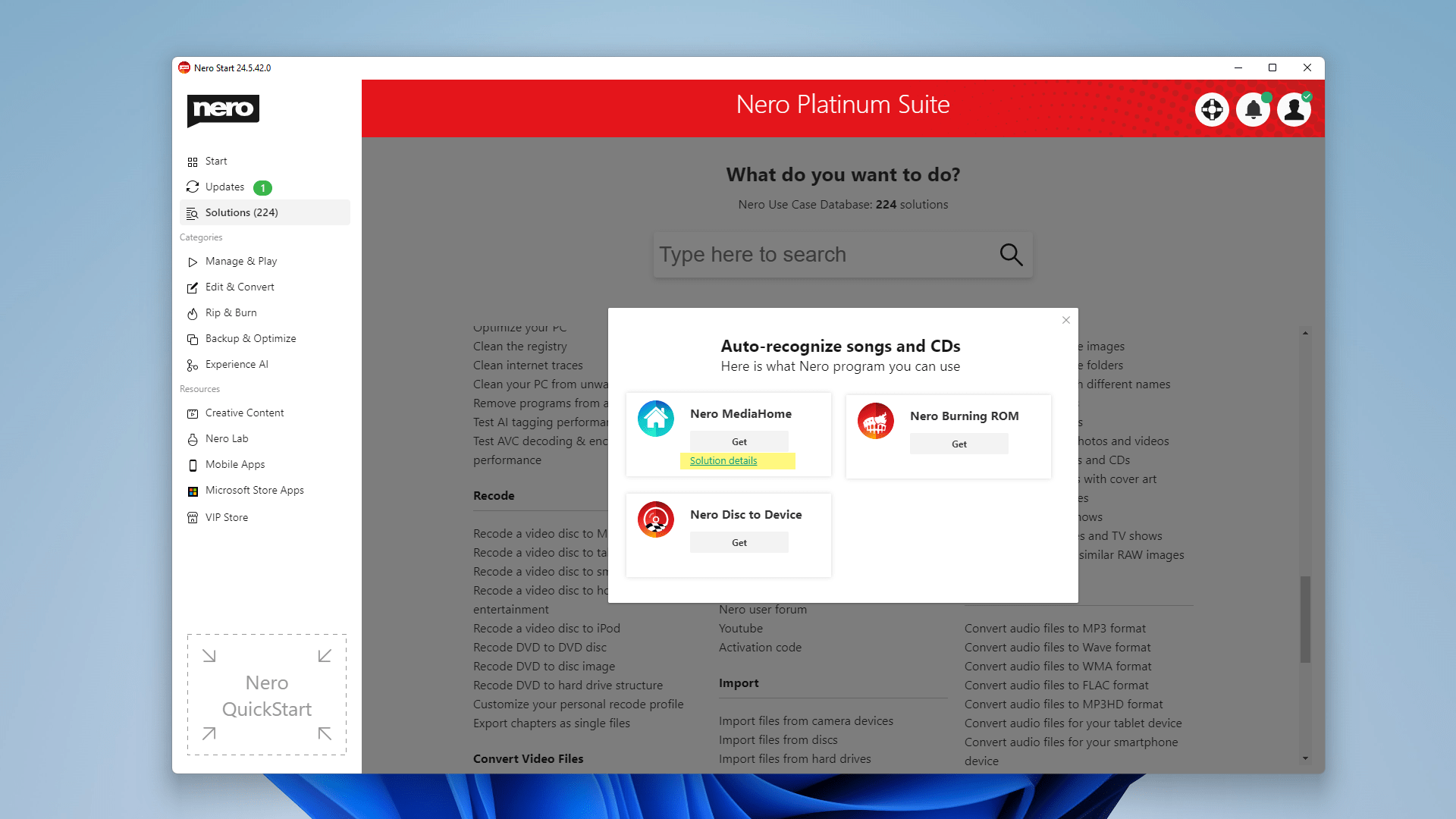 Optimize result displaying order during search.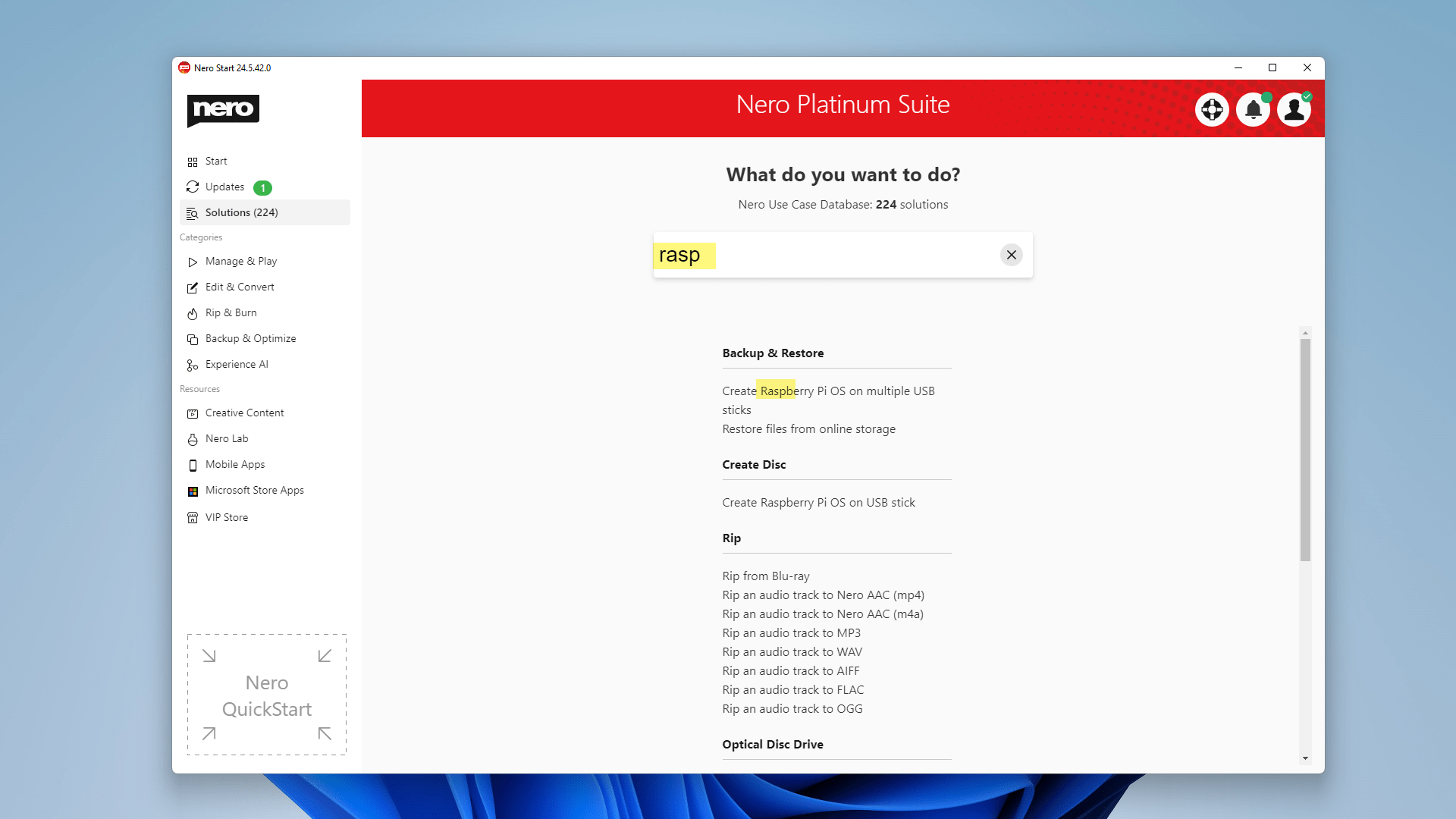 Update some icon and banner designs.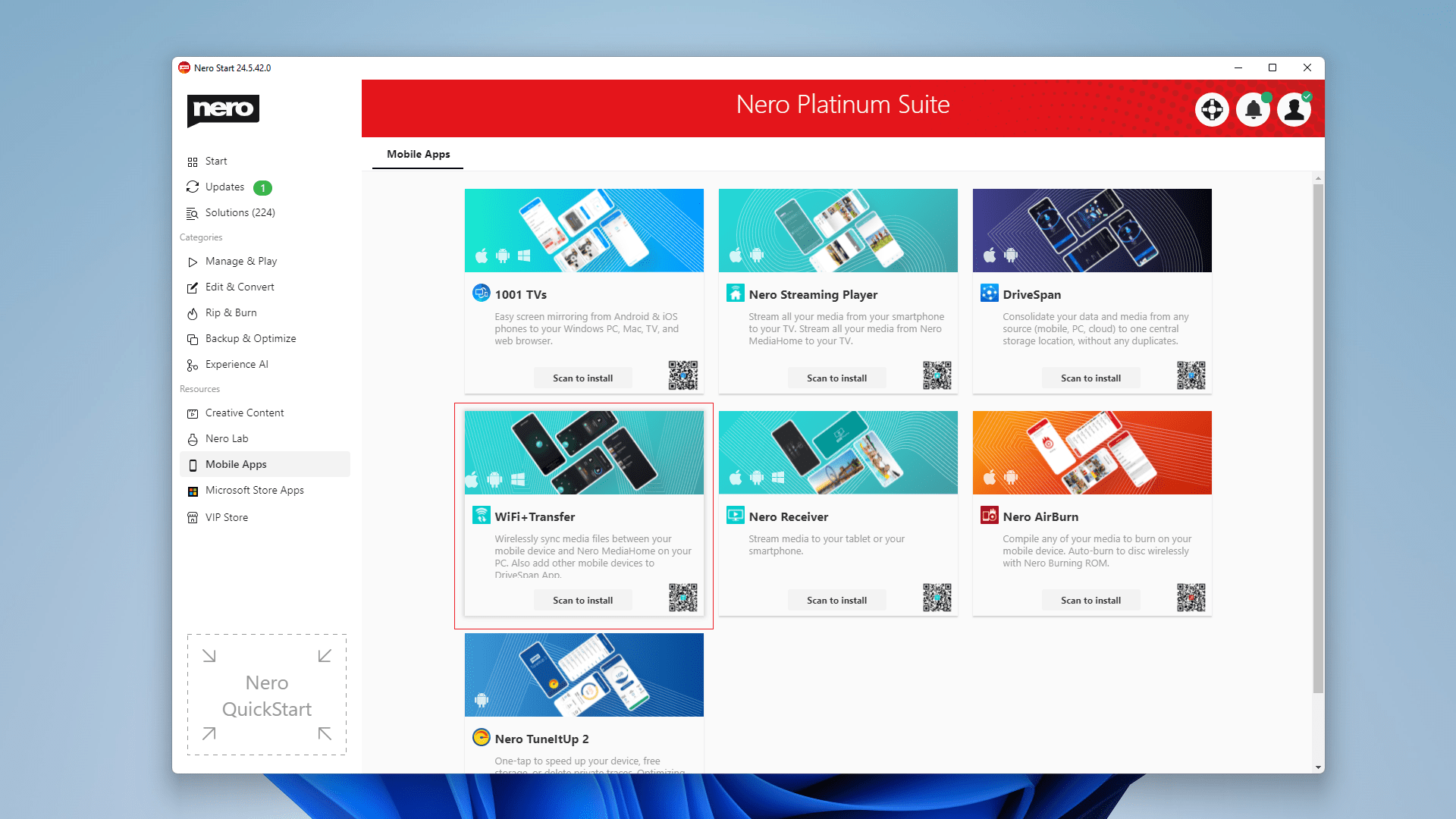 Changed Nero AI Photo Tagger app category to 'Experience AI'.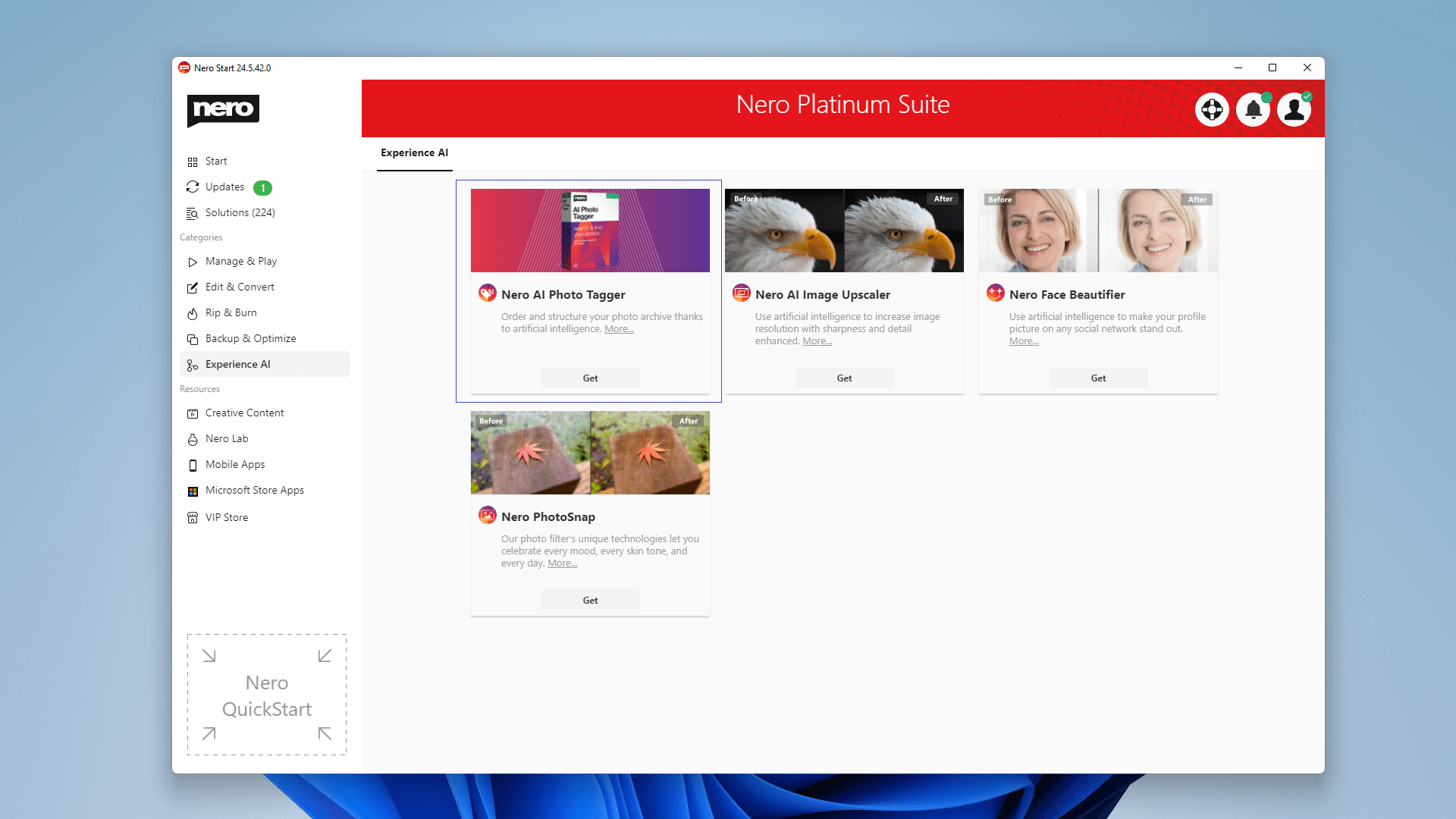 Some improvements for speed, stability and reliablitiy.
2021-11-10
24.5.33.0
[New] Update now to regularly receive notifications for upcoming campaigns.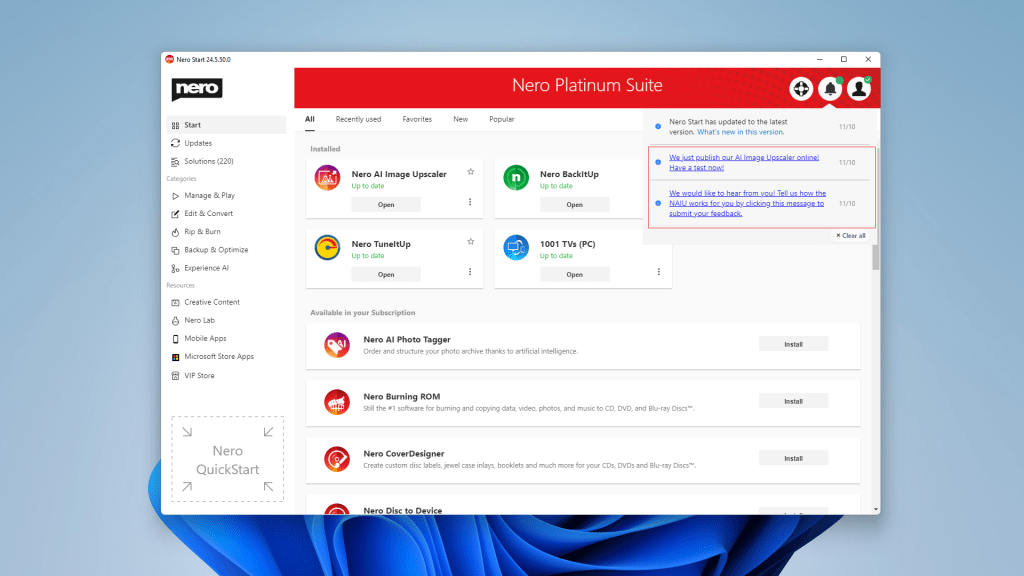 Improved compatibility with Win11 OS.
2021-10-20
24.5.23.0
2021 Q3 Release
[New] The new user interface provides you with dynamic and customized tabs such as "Recently used" and "Favorites" pages.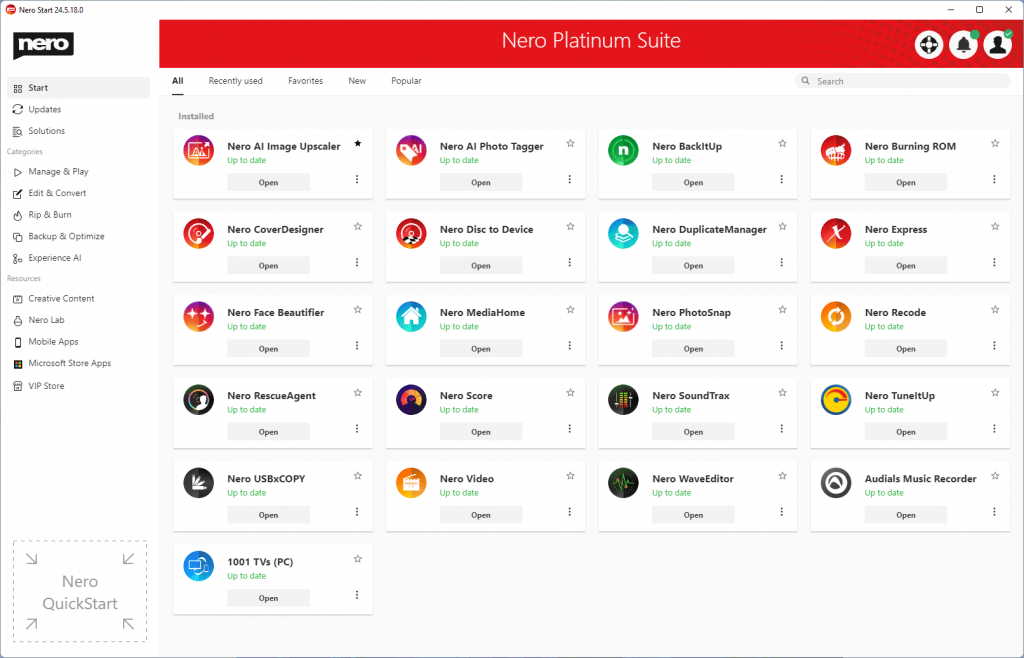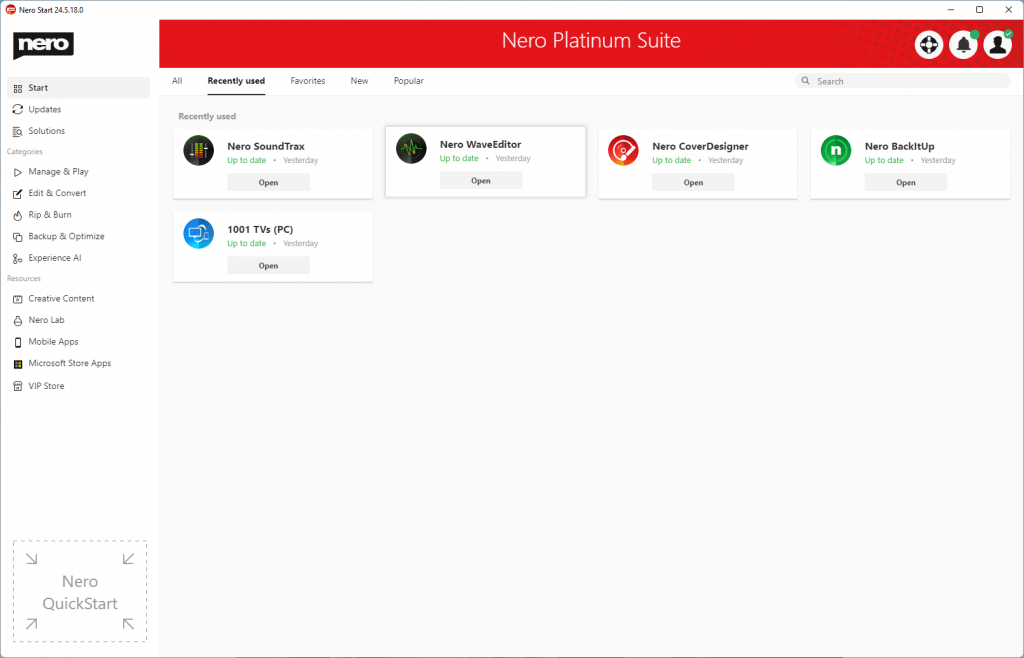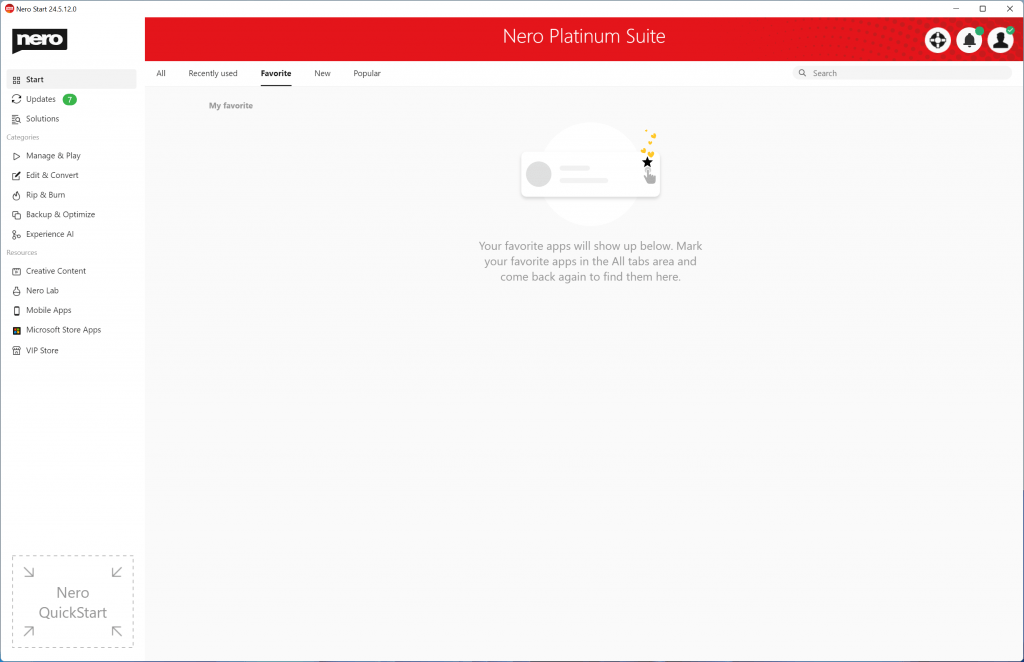 [New] See the latest released apps and most popular apps from users all over the world.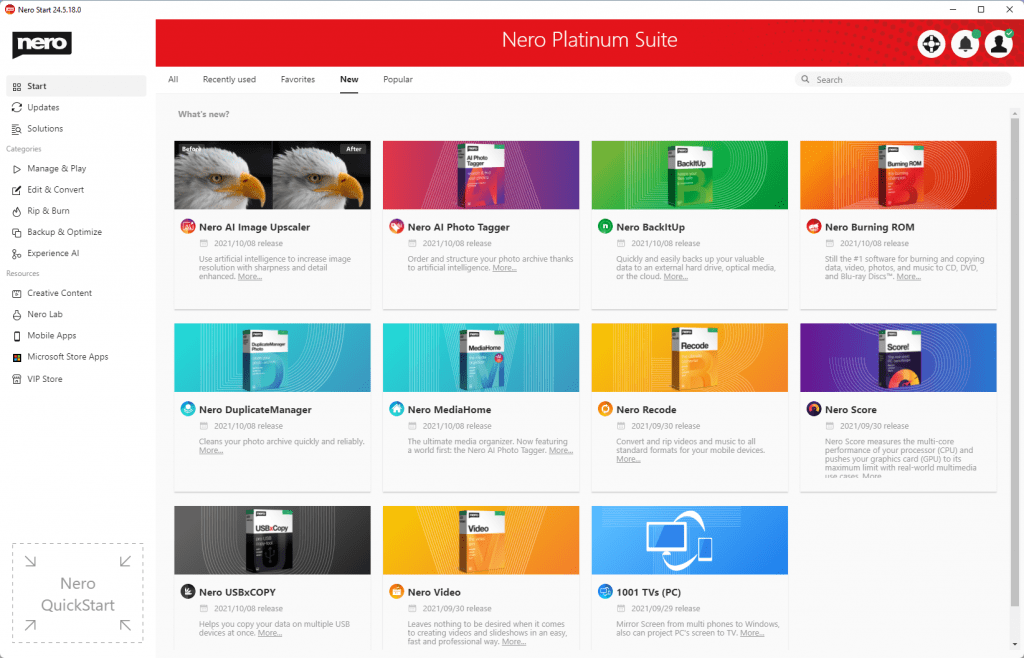 [New] Dedicated "Updates" tabs keep you focus on the apps you have installed.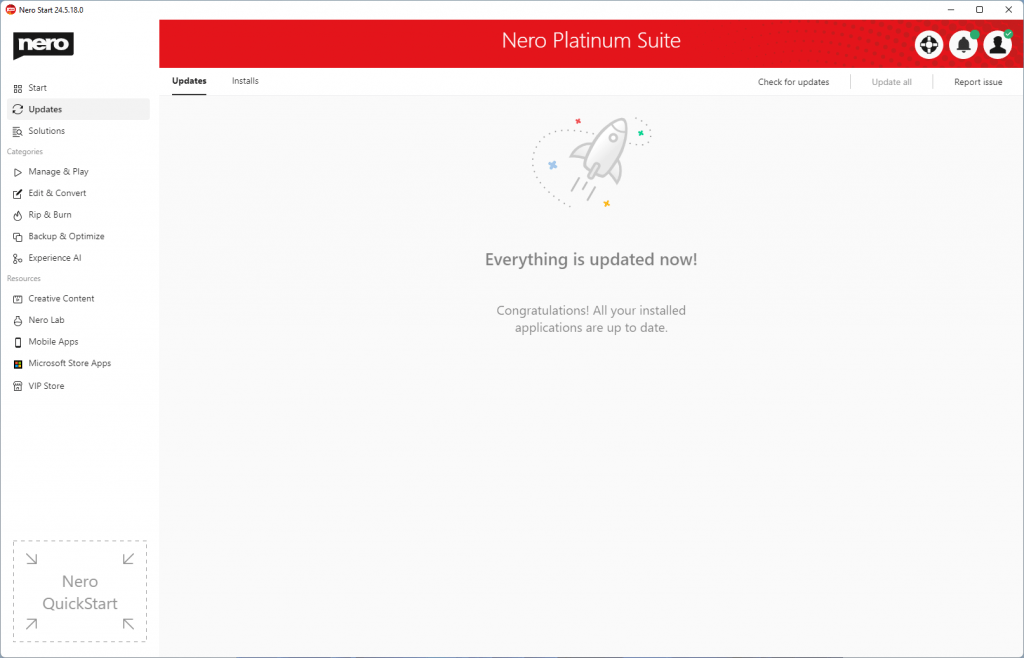 [New] Provides more than 200 solutions for mobile and PC with easier and faster accessibility and a 'Search' bar on the 'Start' page.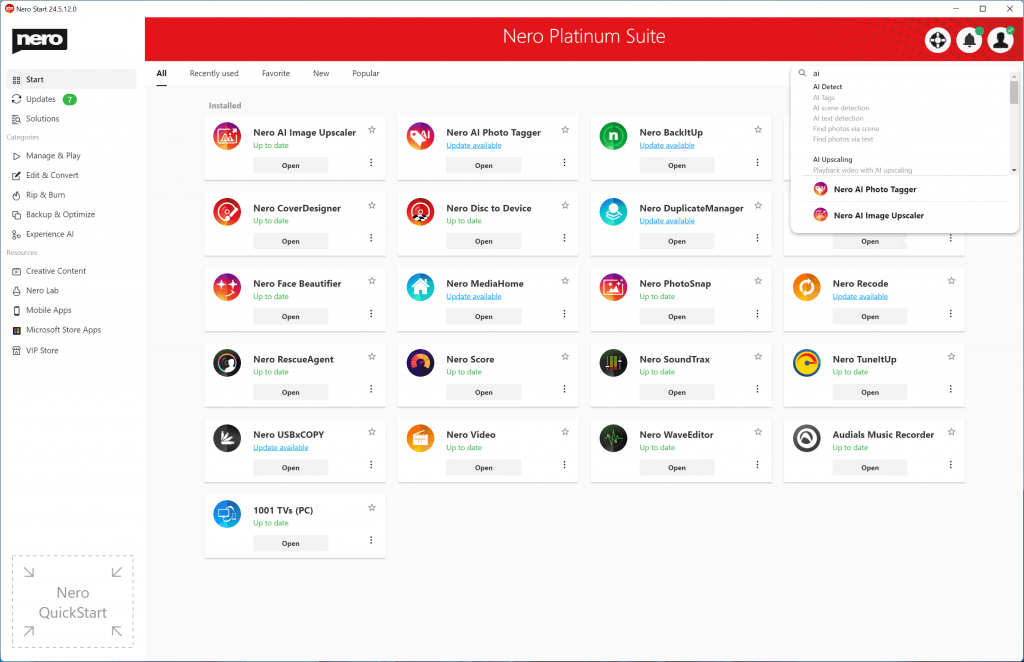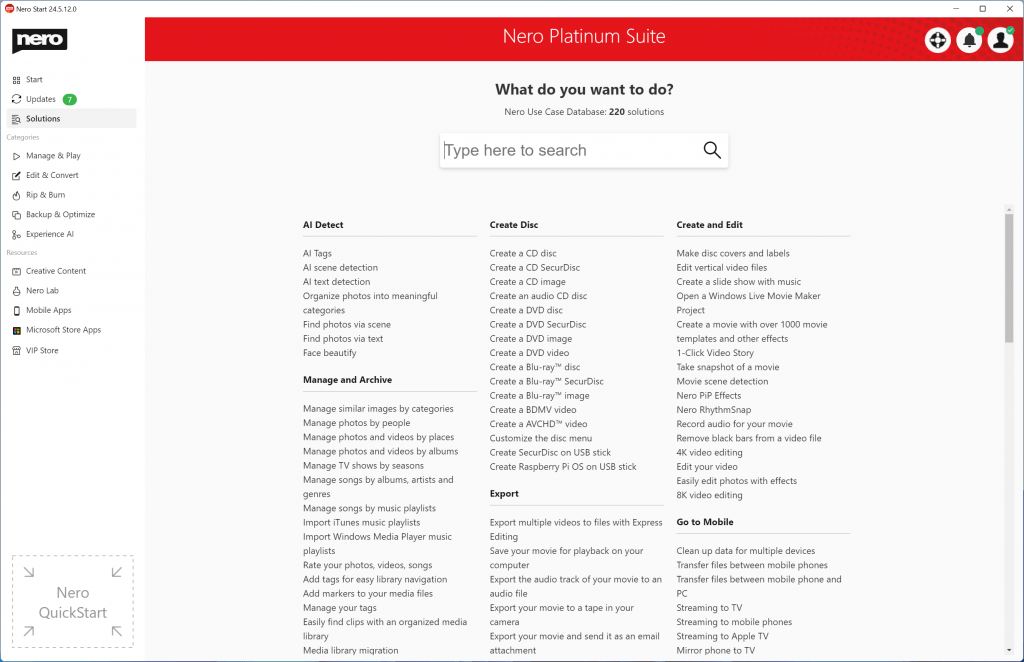 [New] A brand new category "Experience AI" provides easy access to apps that are powered by AI.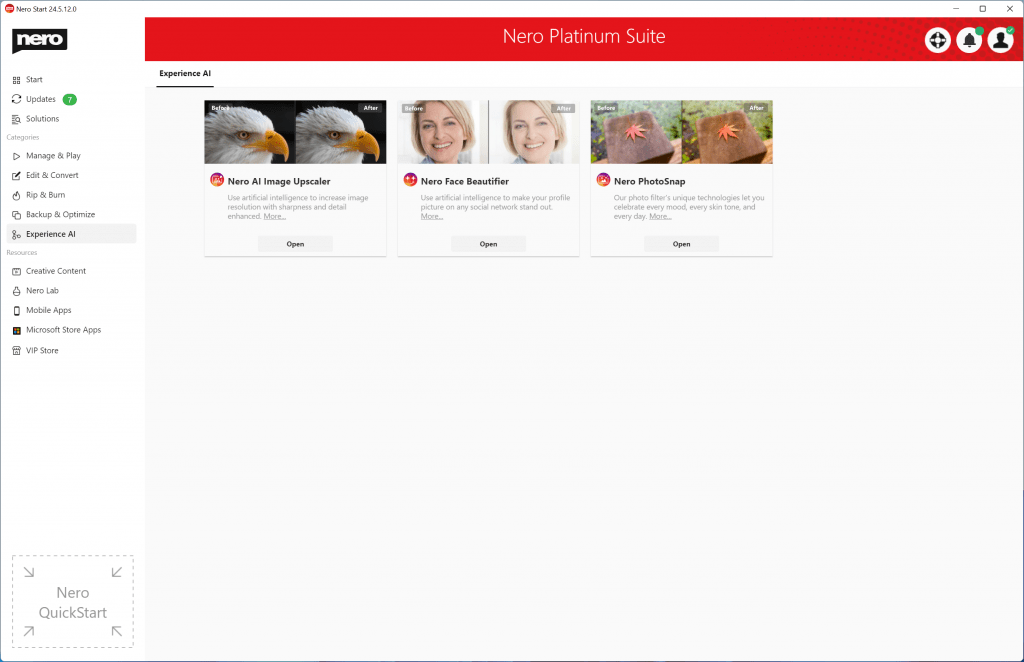 2021-8-4
23.5.2.59
This update includes some bug fixes and usability improvements.
2021-7-21
23.5.2.58
[Improvements] Improved download and install logic.
2021-6-25
23.5.2.57
[New] As a Nero user, you can log in to Nero Account to purchase 3rd party apps in the VIP Store.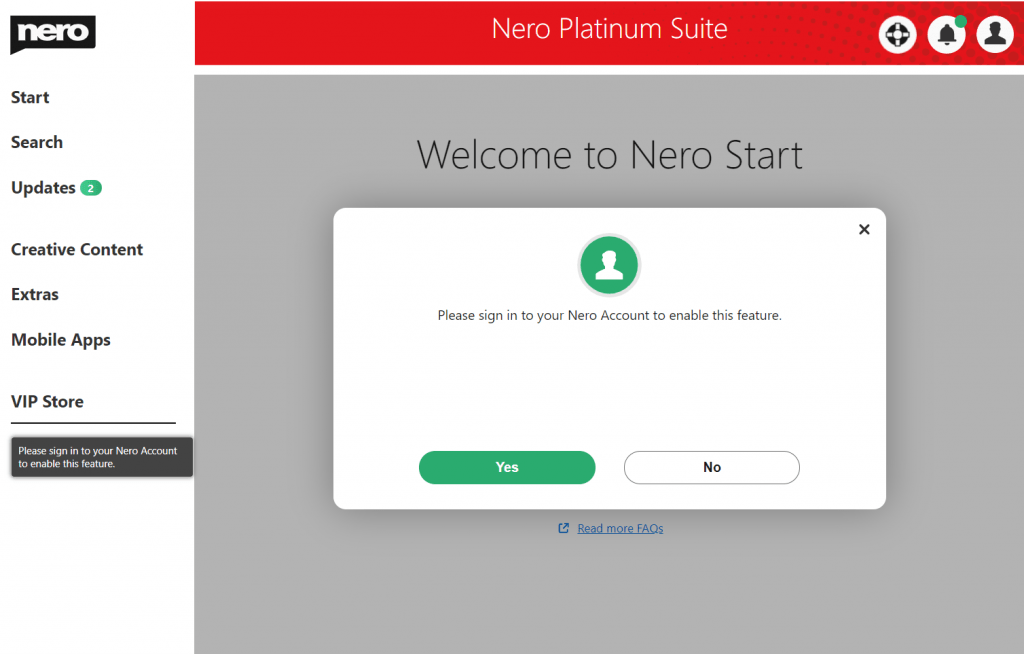 [Improvements] Added solution counter for Nero Use Case Database in Search Page.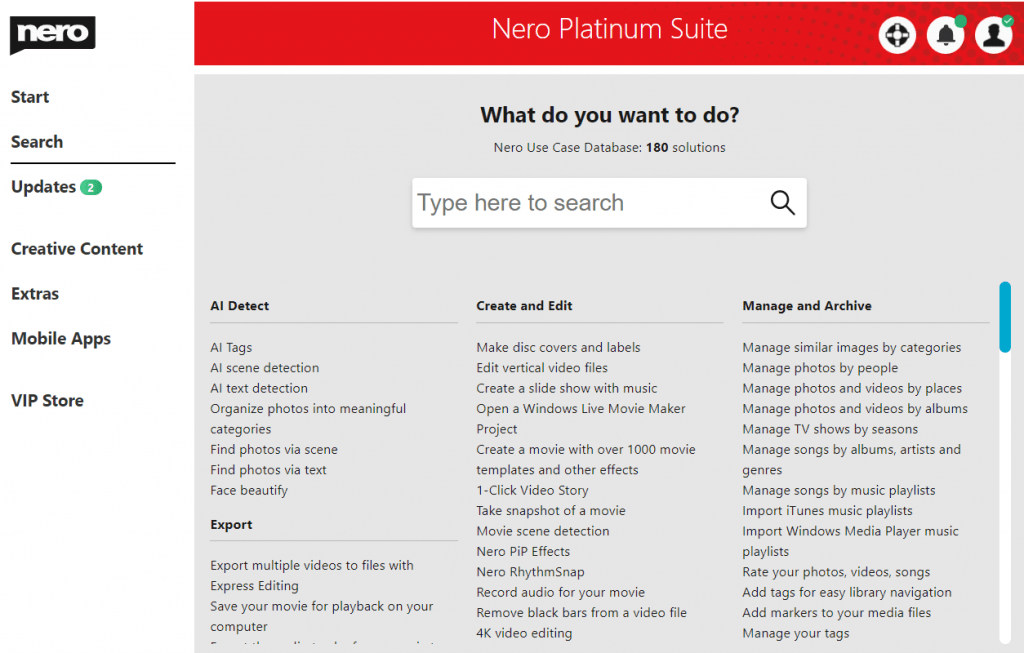 [Improvements]You can upgrade to Nero Platinum Suite full version with flexible options, easier and fatser.
2021-5-20
23.5.2.53
[New] Nero MKV Converter is now added into Extras page for Microsoft Store apps.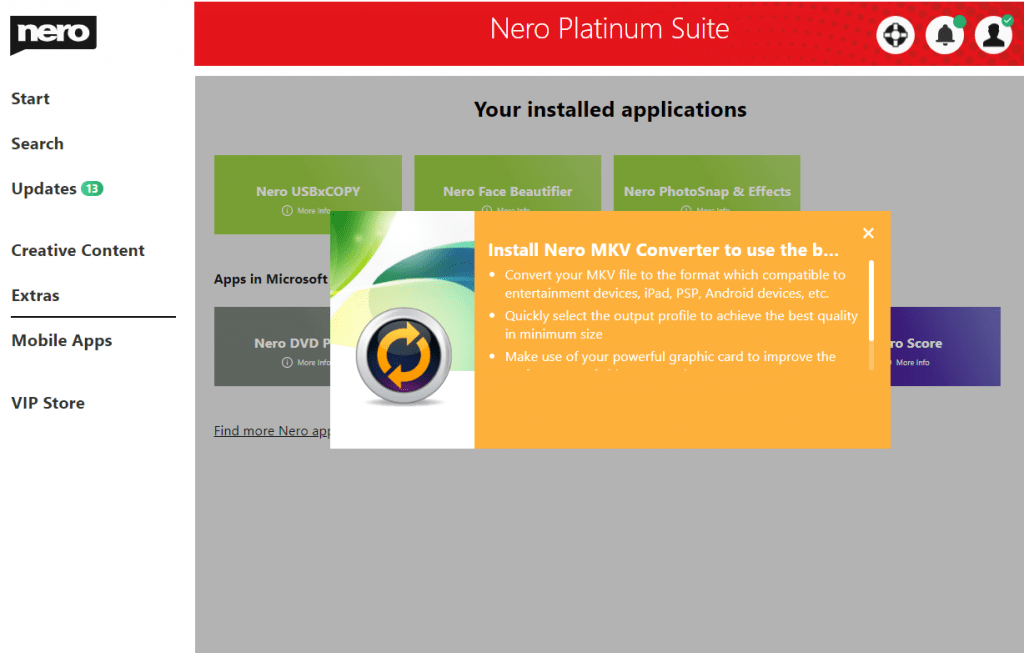 [New] Nero Score is now added into Extras page for Microsoft Store apps.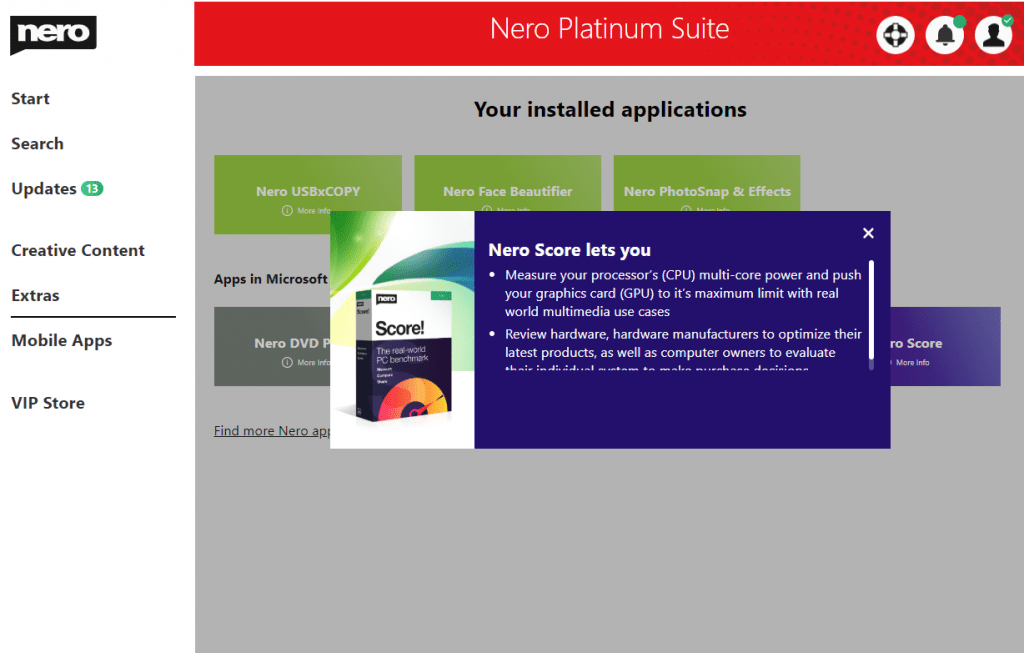 [New] 1001 TVs is now available from Mobile Apps page.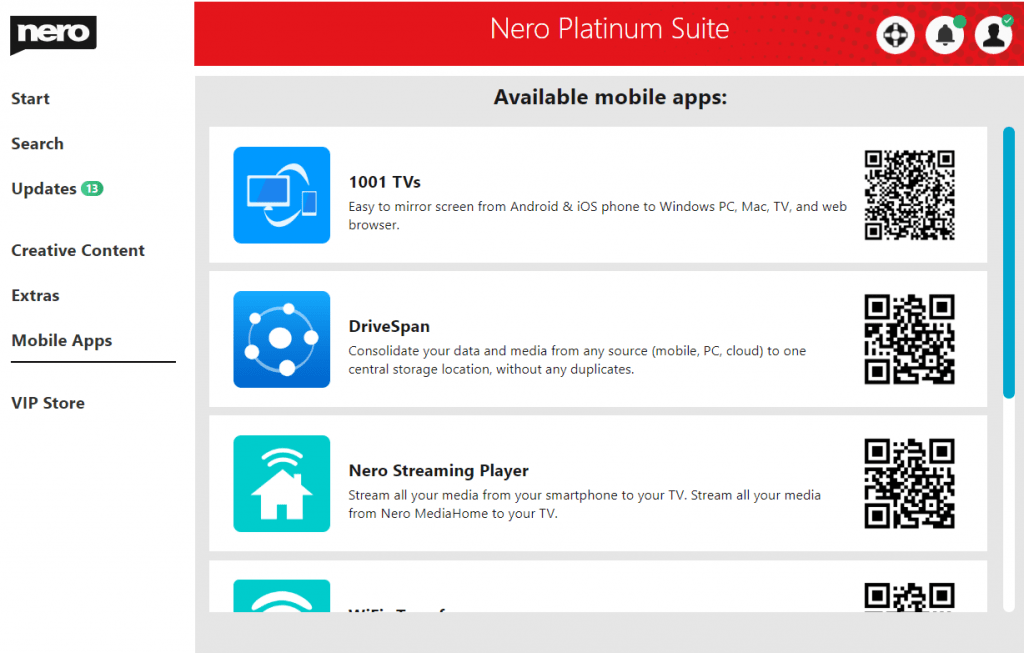 2021-4-29
23.5.2.51
[New] You can report download/update/install issue manually when it is failed in Updates page.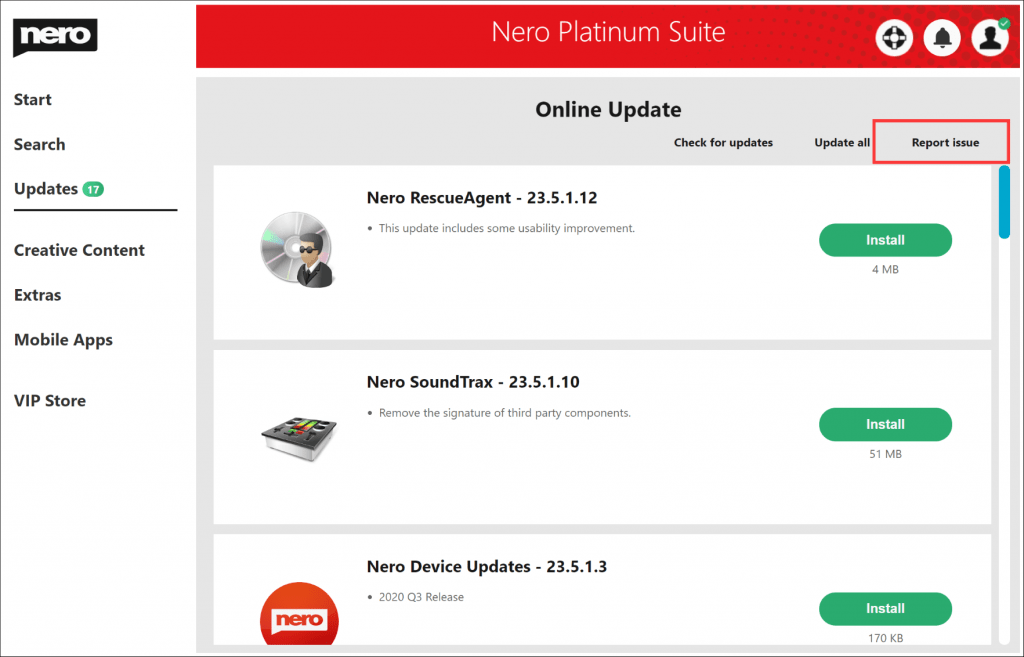 Fixed some isssues in download and install.
2021-4-8
23.5.2.43
Improved download and install performance.
2021-2-5
23.5.2.36
[New] The update center now is displaying the package size of each application version.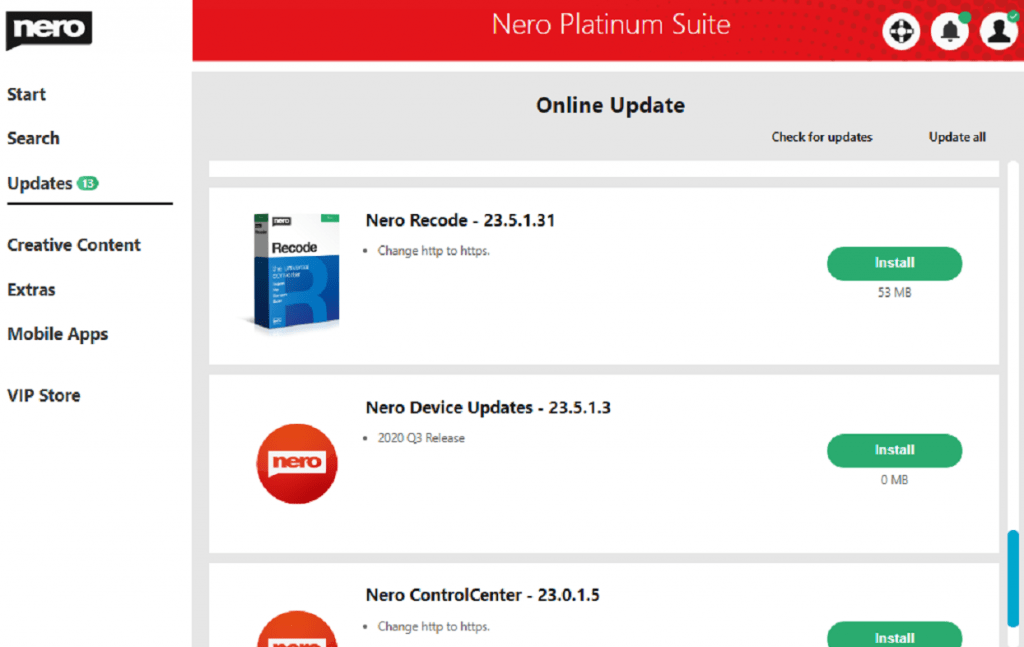 Improved to support upcoming version of Nero DuliplicateManager Photo x64 update.
2020-12-8
23.5.2.20
This update contains some improvements and bug fixes to continuously improve the quality:
Better compatibility – Nero Start has improved the download behavior when the network is poor.
Nero Start now is better compatible with Nero standalone products.
We have fixed some application update issues related to special characters in the installation path.
Better support Nero TuneItUp.
Now, in the 'Search' view, you can easily find what Nero AI can help you and easily jump to according application.
2020-11-2
23.5.2.7
[NEW] Available to uninstall the application from the right-click menu.
Fix several issues in updating applications.
Fix issue for VIP Store.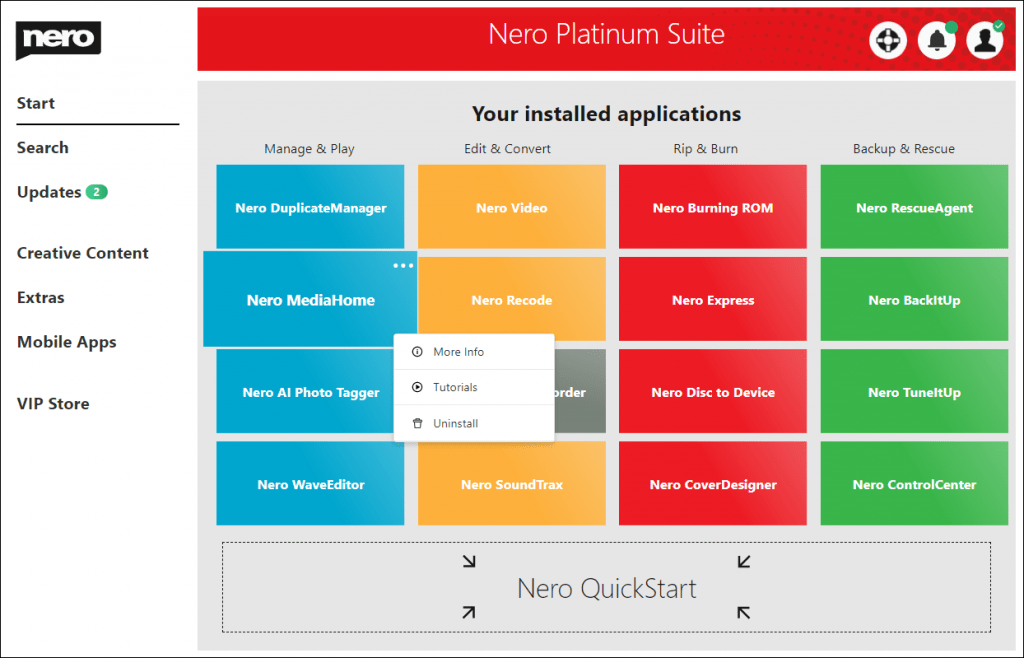 2020-9-23
23.5.1.54
2020 Q3 release.
[NEW] VIP Store is available for Nero Platinum Suite – 1-year license. In VIP store exclusive discounts is available.
[NEW] Nero TuneItUp PRO is available for Nero Platinum Suite – 1-year license. Download, install and unlock it!
Fix issues to improve the software stability.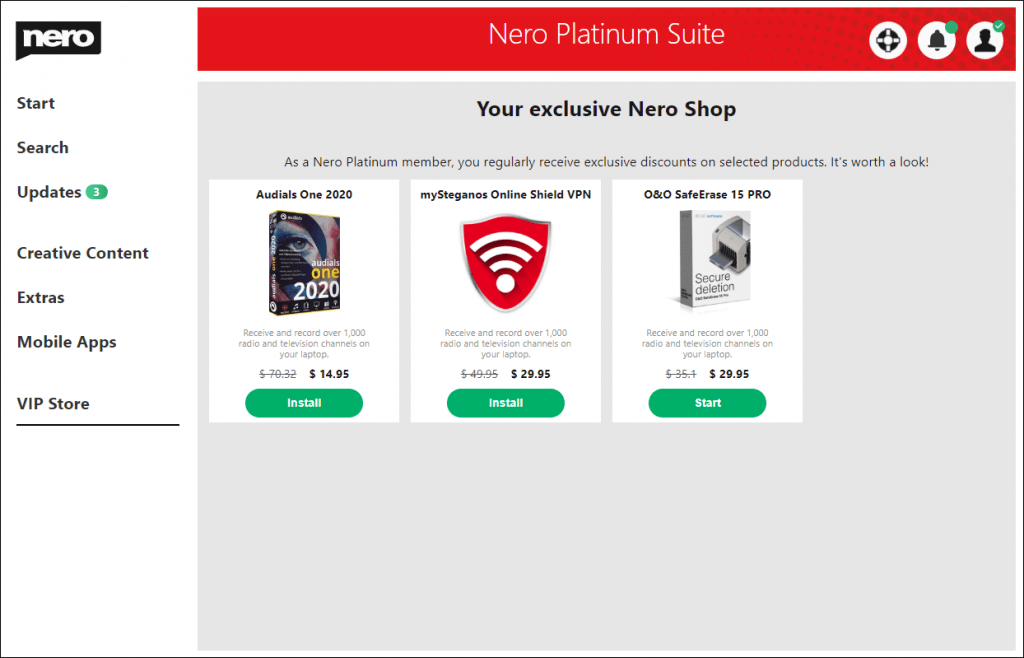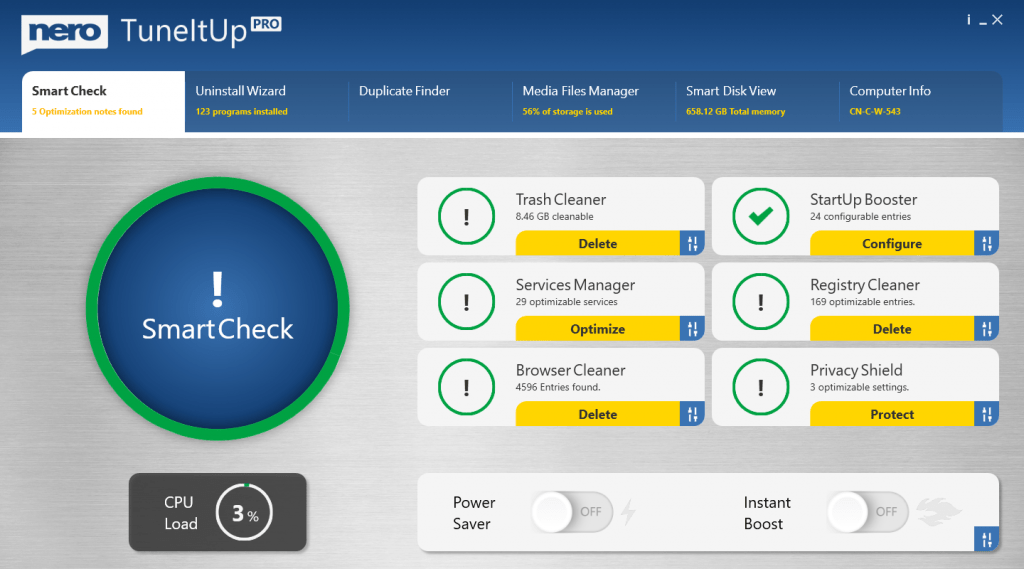 2020-9-16
23.5.1.48
[NEW] New Updates Center to install and Update Nero products.
[NEW] New designed Options screen in Nero Start.
[NEW] It is available to select one Nero product from all products in my Nero Account and show in on the Start screen.
Improved notifications in Nero Start.
Fix issues to improve the software stability.
2020-07-03
[NEW] You can get Nero products from Windows Store now. Open "Extra" screen, find Nero in Windows Store.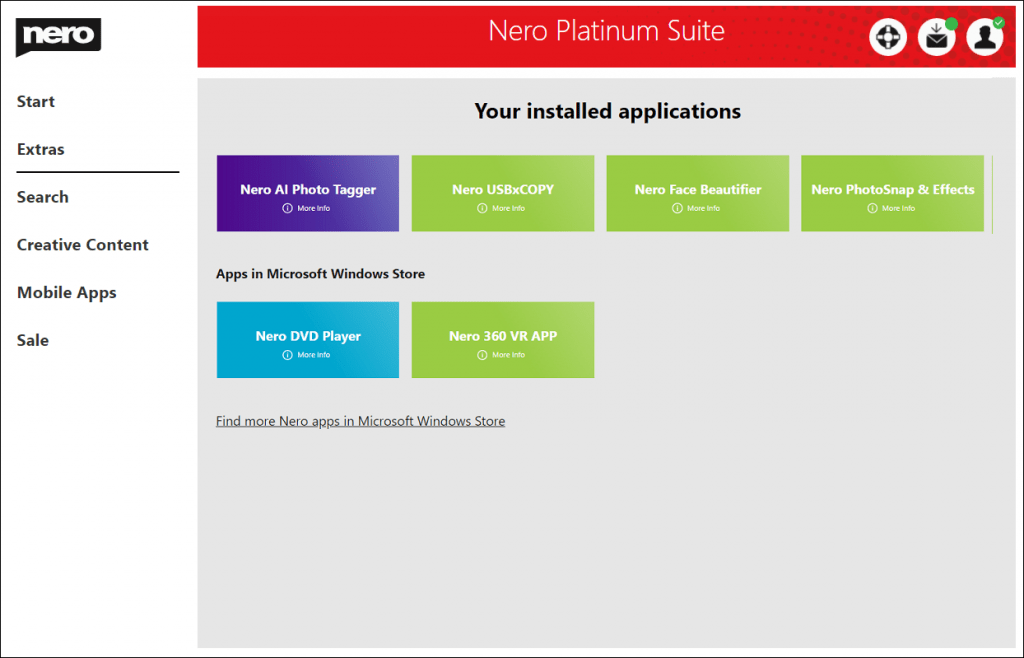 Fix issue to improve the application's stability.