Nero KnowHow App is an easy to use digital learning guide that helps you make best use of your Nero products. It combines individual learning modules into one unique Nero learning toolkit.  It is available for the PC (Windows 10) and all mobile device platforms.
You can make use of the following modules:
'Welcome' – latest and greates Nero product news
'Nero FAQ' (frequently asked questions) – answers, tips and trick for your use cases
'Nero Manuals' – full manuals for your Nero applications
'Nero Tutorials' – more than 50 video tutorials easily accessible for indidivual applications
'Nero Glossary' – explains individual terms and related use cases
'Nero User Forum' – access to Nero End User Forum
Nero KnowHow can be used indpendantly of having a Nero product installed, but full value will be gained when the latter is the case. Having a Nero 2017 product installed (suite & standalone) you can access Nero KnowHow via Nero Launcher as well via the 'KnowHow' menu in the individual applications.
Once the app was launched it gives you a selection for the modules on the left hand side. This can be extended or just used in icon view. In small mobile UIs this menu bar can be made visible by touching the three lines top left.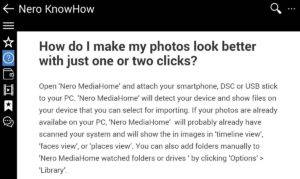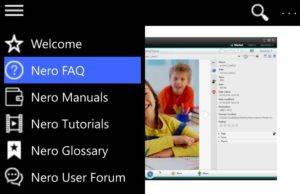 A great new resource is the FAQ section. In here you find individual blogs per application which are grouped to categories. Recent post and top ten posts give you an idea of latest and most viewed blogs. In the mobile app UI you need to touch the 'three line icon' top right to open the browser with such entries. To go back to the blog list jsut click on the 'X'.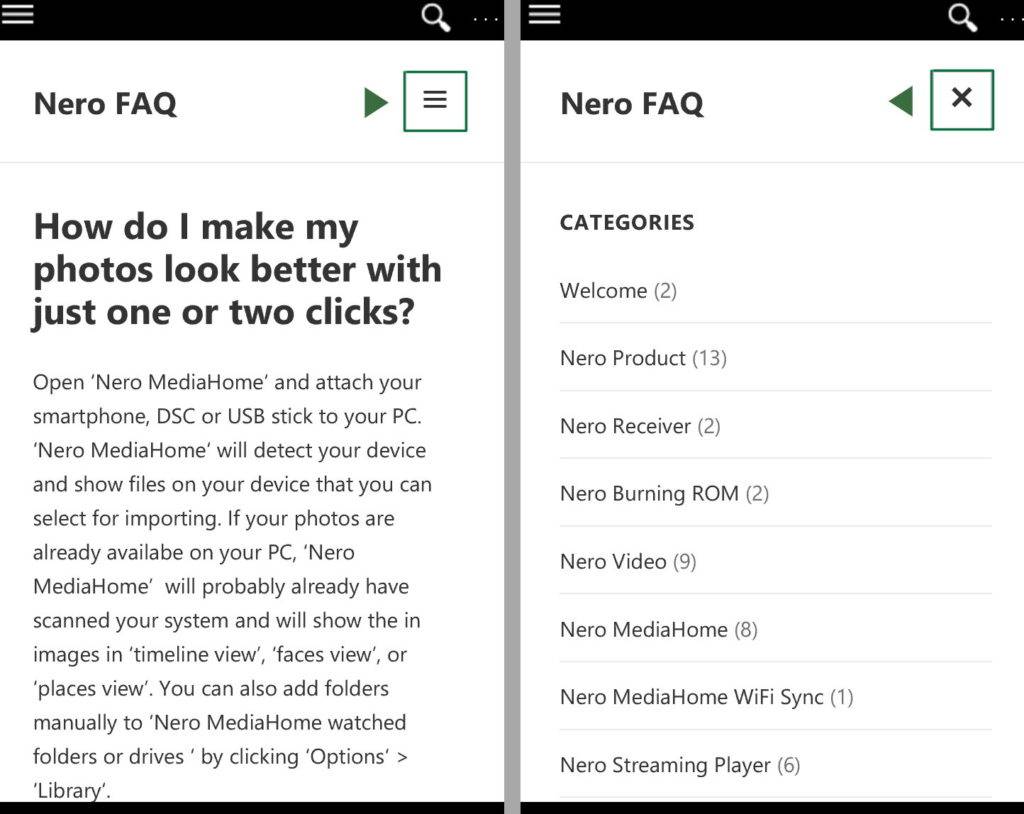 The search field can also be used for typing in a so called 'web code'. Each FAQ blog has a dedicated web code. So if you find a Nero 'web code' mentioned in a 'Nero User Forum' entry, in magazines or other public pages just type in this code and Nero KnowHow will get you straight to the answer you are looking for.
Please note: you need to be connected to the internet to make use of Nero KnowHow App.
Nero KnowHow 00064
(Visited 1,945 times, 1 visits today)