Yes, indeed you can.
With free Nero 360 VR App for Windows 10 you can watch your equirectangular 360° panoramic images – also known as 'spheric panorama images' in jpg, gif, png, or bmp image format.
Install free Nero 360 VR App via Windows App Store. Then launch it via Windows 10 start screen.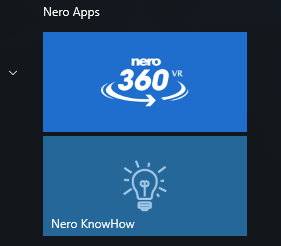 Nero 360 VR also integrates into the home screen of Nero products from Nero product generation 2018 under 'Nero Tools' button.
Via mouse click Nero 360 VR player enables you to view all sections in your 360° image from all angles. You can use Nero 360 VR in full screen mode or in normal mode.
A 360° photo for preview is pre-selected. When clicking on 'File' top left you can select other 360° photos via Windows Explorer.
Note that Nero 360 VR App can be used from Window 10 Creators Update V.1703 and higher.
Nero KnowHow 00079
(Visited 1,014 times, 1 visits today)