By design, Nero Video can only import media files if they exist in a supported video, image, or audio format.
Nero Video has a high compatibility with media formats. Still there may be cases when the format that you want to import is not supported, and an error message may pop up.
The below overview shows you what works and what is not expected to work.
---
Import video file formats
Nero Video has a high compatibility with video formats. Please check the detailed system requirements for reference
---
Import photo file formats
Nero Video has a good compatibility with photo formats. Please check the detailed system requirements for reference
Please note that you can import photo files only within the video editing module of Nero Video
The disc creation module in Nero Video does not allow this
---
Import audio file formats
Nero Video has a high compatibility with audio file formats. Please check the detailed system requirements for reference
---
No import of project file formats
Project files are no media files. These are data bases of the metadata of a given project
Nero Video cannot import video projects as media files
If you want to start an existing project go to home screen 'Open Nero Video Project'
 For more details on project formats, please check Nero KnowHow 00029
---
No import project metadata files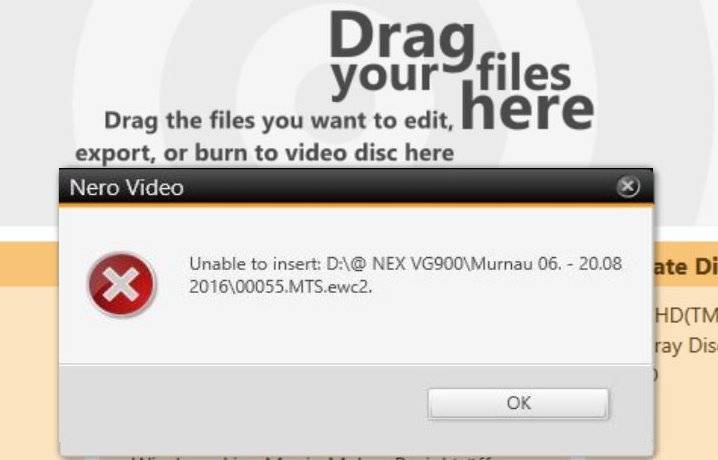 Many video, photo, or audio editing programs create special meta data files of individual files used within their projects and save them in the same folder as the source media files
These files are no media files and are neither needed nor supported in Nero Video
TIP: Before importing from such a folder, select 'sort by file format' in Windows Explorer and only import media files. If – by accident – you have some of these meta-data files in your list of files to import click 'ok'. Nero Video will import compatible media files, anyway
---
No import of document files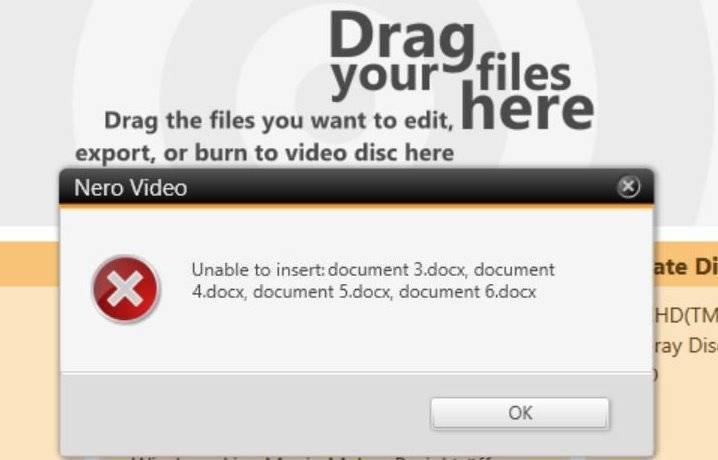 In this case a user wanted to import document types of formats (word, text, etc.) via drag & drop into Nero Video
Such non-media formats are not supported in Nero Video
TIP: If you use the import function within the editing and disc authoring module of Nero Video, non-compatible formats will not be shown. This may help if you are unsure
Nero Know How 00122