The problem is caused by the fact that there are still damaged entries from VC 2015-2022 on your system, which block the new installation.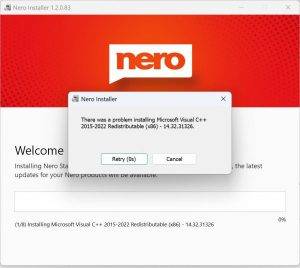 Please follow below steps to resolve the issue.
Please install all windows update by manually.
Open the Control Panel – Programs and Features – Uninstall a program
Uninstall Microsoft Visual C ++ 2015 or 2017 or 2019 Redistributable from your system. The detail name depends on which version installed on your system.
Restart the computer
Download the installer from below link then reinstall.
x64: https://ecloud.nero.com/index.php/s/QNMCPAsed7dKHgy
x86: https://ecloud.nero.com/index.php/s/L8xKNNxd62fSpia
After that, please retry Nero's installation.
We hope it resolved your problem. If not, please contact Nero support.
Nero KnowHow 00134
(Visited 111 times, 1 visits today)