What's new in v.23.5.1.58
In this version, we have improved the user experience:
Now you can see all AI tags that Nero AI Photo Tagger supports, with one glance.
Optimized some AI Tags.
What's new in 2020 Oct Update
1. For B2B and Enterprise, Nero now offers AI Model + Hardware solutions.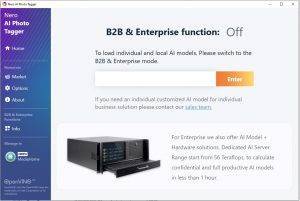 2. Now you can start to control the AI detection with some settings in Options. Supports sensitivity adjustment to control the accuracy of AI detection and the minimum ignore image size settings.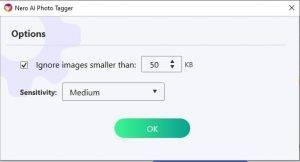 What's new in v. 2.0.1013
Now you can not only save the AI tag to files, but also re-arrange your photos according to the intelligent classifications. The new 'copy file' feature provides you the solution.
The connection with Nero MediaHome is strengthened. After Nero AI Photo Tagger detects the AI tags, you can start Nero MediaHome with one click and manage your photos more easily with its powerful multimedia management function.
In this update, we also have fixed some bugs and improved performance.
Nero KnowHow 00217
(Visited 770 times, 1 visits today)